From the slightest foot discomfort to unbearable pain, foot problems are not something to be ignored. Bruyere Foot Specialists is here to help identify the source of your pain and recommend the best treatment plan for the best possible outcome.
If you have ever asked yourself any of these questions, it's time to call us!
613 - 562 - 6357 
My feet ache all the time!
I have thick, yellow, hard to cut toenails!
When I get out of bed or after a rest, my heel just hurts so much!
I have bunions!
I have corns!
I have thick hard dry cracked skin around my heels!
I think I have fungus in my toenails!
Because...
We will take care of your feet like those of a family member. 
Nous prendrons soin de vos pieds comme ceux d'un membre de la famille.
Friendly, knowledgeable, caring staff
We will always make you feel welcome and like you're part of our family. We know our patients by name and greet them with a smile.
New Services and Technologies!
We try to bring in any new services that will benefit our patients, doing everything in our power to help them!
Footcare one stop shop!
Everything you need to care for your feet . . . Footcare, foot products, orthotics.
We won't keep you waiting
Our schedules are streamlined to accommodate as many emergencies as possible. We see you as soon as needed, always punctual.
Bilingual Service
English, French, German, Flemish and even some basic American sign language.
FREE Parking
Our building is wheelchair and walker accessible.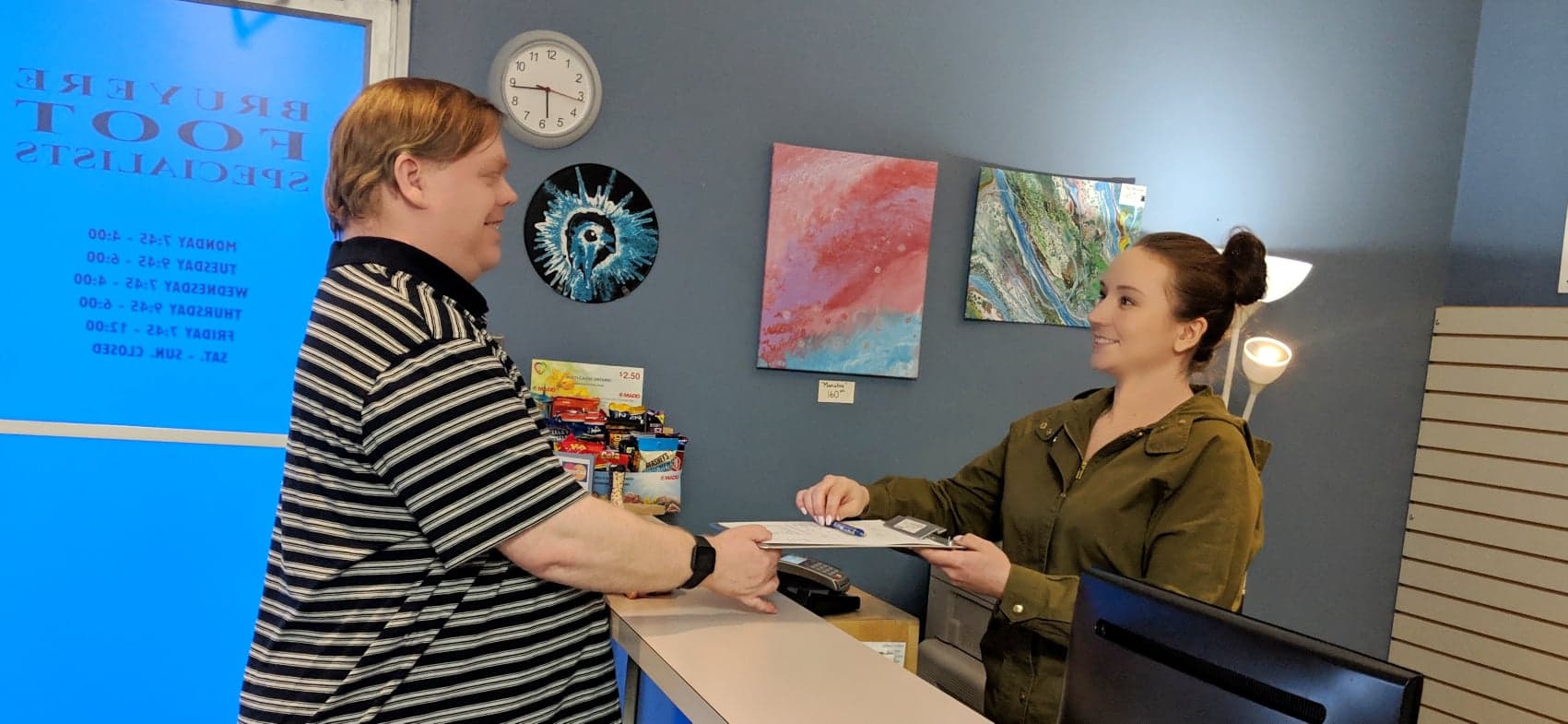 | Day | From | To |
| --- | --- | --- |
| Monday | 07:45 AM | 04:00 PM |
| Tuesday | 09:00 AM | 05:00 PM |
| Wednesday | 07:45 AM | 04:00 PM |
| Thursday | 09:00 AM | 05:00 PM |
| Friday | 07:45 AM | 12:00 PM |
| Saturday | Closed | Closed |
| Sunday | Closed | Closed |