11 Great Shoe Fitting Tips
Everything from serious foot disorders to more common foot and ankle conditions can be exacerbated by one, avoidable cause: inappropriate, poor quality, and/or ill-fitting shoes. Any Chiropodist will tell you that a quality, properly fitted shoes pay big dividends for your feet — now and in the future.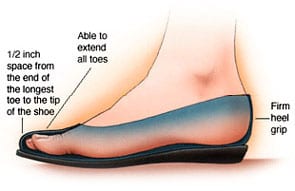 The most important quality to look for in shoes is durable construction that will protect your feet and keep them comfortable. Shoes that do not fit properly can cause bunions, corns, calluses, hammertoes and other disabling foot disorders.
Here are some shoe fitting tips to help reduce the risk of foot problems when shopping for shoes:
Don't force your feet into a pair of shoes in order to conform to the shape of the shoe. The shoe needs to conform to the shape of your foot.
Fit shoes to your largest foot. Most people have one foot larger than the other.
Have both feet measured every time you purchase shoes. Foot size increases as you get older.
If the shoes feel too tight, don't buy them. There is no such thing as a "break-in period."
Many high-heeled shoes have a pointed or narrow toe box that crowds the toes and forces them into an unnatural triangular shape. As heel height increases, the pressure under the ball of the foot may double, placing greater pressure on the forefoot as it is forced into the pointed toe box. Limit heel height to two inches or less to protect your feet.
Shoes should be fitted carefully to your heel as well as your toes.
Sizes vary among shoe brands and styles. Judge a shoe by how it fits on your foot, not by the marked size.
There should be a half-inch of space from the end of your longest toe to the end of the shoe.
Try on new shoes at the end of the day. Your feet normally swell and become larger after standing or sitting during the day, which makes for a better fit.
Be sure to try on both shoes. Walk around the shoe store in the shoes to make sure they fit well and feel comfortable.
When the shoe is on your foot, you should be able to freely wiggle all of your toes.
Shoe tips to consider when buying new shoes
Avoid shoes that have seams over areas of pain, such as a bunion.
Avoid shoes with heavy rubber soles that curl over the top of the toe area (such as seen on some running shoes), because they can catch on carpets and cause an accidental fall.
Flat shoes (with a heel height of one inch or less) are the healthiest shoes for your feet. If you must wear a high heel, keep to a heel height of 1.5 inches or less, limit their wear to three hours at a time, and take them off coming to and from an activity.
Laced, rather than slip-on shoes, provide a more secure fit and can better accommodate insoles, orthotic devices, and braces.
Look for soles that are shock absorbing and skid resistant, such as rubber, rather than smooth leather.
Athletic Shoe tips
Athletic footwear should be fitted to hold the foot in the position that's most natural to the movement involved. Athletic shoes protect your feet from stresses encountered in a given sport and to give the player more traction. The differences in design and variations in material, weight, lacing characteristics, and other factors among athletic shoes are meant to protect the areas of the feet that encounter the most stress.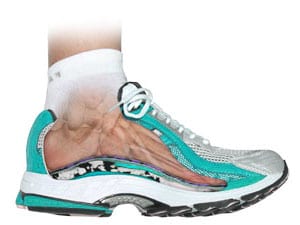 Well-fitted athletic shoes need to be comfortable, yet well-constructed and appropriate for a given activity. A good fit will mitigate blisters and other skin irritations.
Sports-specific athletic shoes are a good investment for serious athletes, though perhaps a less critical consideration for non-athletes. Don't wear any sport or other shoes beyond their useful life.
A running shoe is built to take impact, while a tennis shoe is made to give relatively more support, and permit sudden stops and turns. Cross training shoes are fine for a general athletic shoe, such as for physical education classes or health club exercising, such as on stair machines and weight-lifting because they provide more lateral support and less flexibility than running shoes. They also tend to be heavier than running shoes, but most people don't need light, flexible shoes for cross-training. If a child is involved more heavily in any single sport, he or she should wear shoes specifically designed for that sport.
Our practice recommends sturdy, properly fitted athletic shoes of proper width with leather or canvas uppers, soles that are flexible (but only at the ball of the foot), cushioning, arch supports, and room for your toes. Try a well-cushioned sock for reinforcement, preferably one with acrylic fiber content so that some perspiration moisture is "wicked" away.
Athletic shoes need to be replaced after one year, whether or not they are worn, and after a certain amount of repetitive load is placed on them and wears them down. The American Academy of Podiatric Sports Medicine advises replacing running or walking shoes after 300 to 500 miles of wear, and replacing aerobic, basketball, and tennis shoes after 45 to 60 hours of wear. Athletic shoes should also be replaced if they show signs of unevenness when placed on a flat surface, display noticeable creasing, and/or when the heel counter breaks down.